Solar Energy Providers in Buffalo & Western NY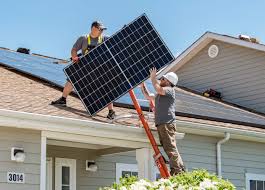 Solar Buffalo's top-rated team of designers and engineers are expertly trained and experience to help you get the most out of going solar.​ Our free consultation and home assessment includes a complete evaluation of your property and customized estimate based on your house's dimensions and energy needs.
Solar Buffalo also shows you the savings you'll enjoy when you choose solar energy, and lays out financial options to suit your budget.
Our licensed solar panels energy installation team completes most home installation projects in a day. After that, Solar Buffalo ensures your solar energy system conforms to local regulations.
5 steps to get started with solar power
Schedule a free home consultation with a no-obligation quote.
Selection one of many available financial options that suits your budget.
Work with our professional team of experts to determine placement of solar panels, project timeline, and permit and code requirements.
Set a date for our solar panel installers to complete your home solar energy project
After inspections are complete and connections are made your utility provider, you begin to reap the rewards of solar power!
Home solar energy for your home in Buffalo, NY is only a phone call away. Contact Solar Buffalo today for free home solar consultation and no-obligation estimate. You'll be glad you did.